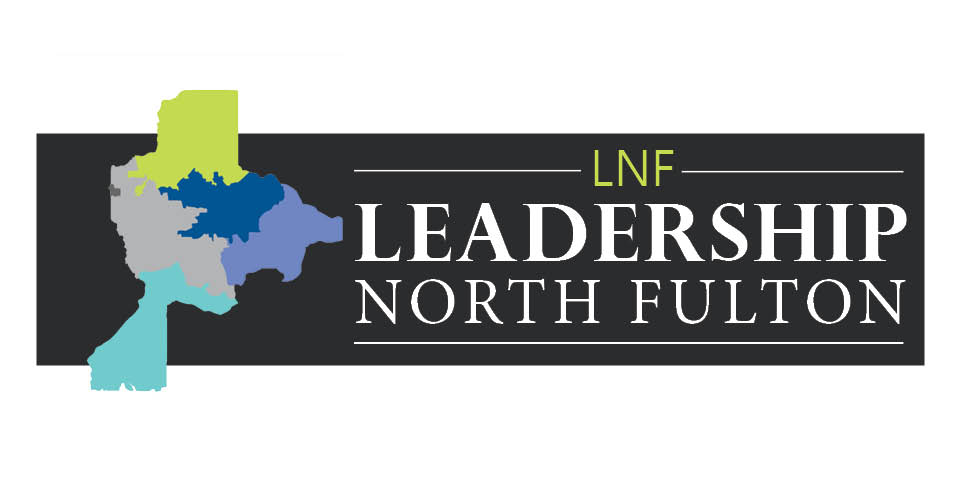 Leadership North Fulton
Leadership North Fulton (LNF), has been the region's signature leadership development program for more than 30 years. Each year, graduating participants join the ranks of more than 500 LNF alumni and continue to invest in our communities through their time and talent. Pillars of the program include promoting community awareness, instilling civic responsibility, and building relationships. Participants engage civic leaders through program class days, and many alumni have gone on to serve in government or community-based organization staff roles and as elected officials. The relationships that are forged through participation and investment in LNF by business and nonprofit partners continue to affirm the program's foundational role in community leadership development. LNF projects continue to impact the region in a lasting way, most notably, through the founding of The Drake House in 2004, founding of the Emerging Leaders Youth Program in 2009, and establishment of The Drake House Young Professionals Advisory Council in 2017.
Class of 2020 - 2021 Schedule
Attendance is mandatory for all LNF participants.
Opening Reception: September 10, 2020 (4pm-7pm)
Opening Retreat: October 1 & 2, 2020 (overnight)
Class #1: October 22, 2020
Class #2: November 19, 2020
Class #3: December 10, 2020
Class #4: January 21, 2021
Class #5: February 18, 2021
Class #6: March 18, 2021
Class #7: April 22, 2021
Class #8: May 20, 2021
Graduation Luncheon: June 29, 2021

Emerging Leaders Program
Emerging Leaders (EL) offers a unique opportunity for area high schoolers who wish to develop leadership skills, identify and address community issues and interact with local leaders. This is accomplished through a combination of interactive lectures, discussions, site visits, community service, and networking opportunities.
Each class focuses on topics such as public safety, government, interviewing skills, personal finance, nonprofits, and leadership skills.
The mission of Emerging Leaders is to provide students with an understanding of the concept of leadership, and provide skills and knowledge to become effective leaders in our communities.
Each class day typically runs 9:30 a.m. to 3:30 p.m., with a few exceptions.
Class of 2020 - 2021 Schedule
Attendance is mandatory for all EL participants.
Opening Reception: September 22, 2020 (evening)
Class #1: October 9, 2020
Class #2: November 3, 2020
Class #3: December 5, 2020
Class #4: January 9, 2021
Class #5: February 15, 2021
Class #6: March 12, 2021
Graduation Reception: April 15, 2021 (evening)